Lynkz: Industrial Wireless Monitoring Solutions
Lynkz Instruments inc. is company offering design services for custom wireless industrial electronic products. These products are designed for the monitoring of industrial activities on site and adapted for rough environments.
Lynkz headquarters are located in Québec, Amos, Abitibi in order to offer competitive service to regional industries, specifically to mining, logging and raw material processing.
Lynkz designs its systems from A to Z to ensure a full product control. Having electronics design, mechanical integration, industrialization and production management under the same roof lends a highly  competitive customer service.
Lynkz Technology
Lynkz systems are integrated with a patented wireless transmission modulation mostly used for the Industrial Internet of Things (IIoT). This technology brings major advantages such as extended range, high autonomy and low cost. Lynkz systems do not come along with complicated and expensive software as most of available solutions do. Lynkz solutions are compatible with any of the data management software on the market (PI, Oracle, Canary, SQL, Excel, etc…) thanks to the flexibility coming along with tailored designs. See the presentation below for more details.
Custom Design Form Factor
One of the advantages of developing a product from scratch is the flexibility regarding its shape and environmental capabilities. Enabled by the many available printed circuit and potting technologies, Lynkz can give any kind of shape to a product depending on the Client's specifications. Below are some examples of possible product shapes.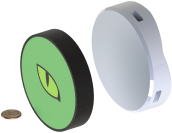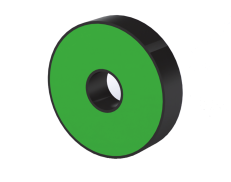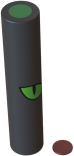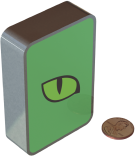 This kind of mechanical design ensures that the product will last for years in any kind of environment. Most of the designs are expandable, which means once the battery is dead, the product is dead. Maintenance costs related to opening the case and changing the battery are already over the cost of replacing this maintenance-less product. If you have trouble with one unit, put it aside and replace it instantly. Since Lynkz's products will sell at about 50$ to 250$ a unit this is a game changer in maintenance operations.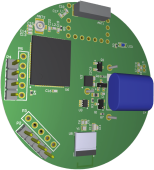 "Off-the-Shelf" Solutions
Some industrial monitoring solutions are already available on the market to solve recurrent problems. These solutions are pre-designed and made based on a model said universal. Even though these "off-the-shelf" solutions may appear to provide time and money savings, they are far from getting along with this ideology. Here are the most known
reasons why:
Incompatibility with the actual monitoring network
Incompatibility with other "off-the-shelf" systems
Non-flexible configuration (Ex.: Sampling Rate, ID, etc…)
Slow and expensive technical support (if available)
Requires a special adaptation at installation on site
These inconvenients require an active participation from the client's calendar and wallet. That makes the "off-the-shelf" solution way less profitable than what it may seem.
The Custom Solution
Lynkz rewrites the rules by offering design and production services for custom and adapted solutions. Thanks to the constant diminution of component costs and manufacturing services, it is now more profitable for the client to develop the solution needed in close collaboration with the developer. Here are the key arguments:
Compatible with all other systems
100% flexible and controlled configuration
Fast and inexpensive technical support
Adapted for installation on the client's site
The solutions reflects exactly what the client is looking for
Even though the initial investment is higher, the financial returns regarding maintenance, troubleshooting and extra adaptation work make this solution considerably profitable.
Business Model
Lynkz business model is based on a collaborative process which commits both Lynkz and the client to one ultimate common goal: Successfully design and industrialize a IIoT product. This commitment from both parts ensures the well being of the project and greatly reduces risk towards a Win-Win conclusion.
Lynkz's model is also all about reducing costs and lead time for a new IIoT product development. In order to achieve that, Lynkz takes care of 25% of the gross development costs and the Client is charged for the remaining 75%. Lynkz makes absolutely no profits of this 75%. All of the money invested by the Client during development is strictly used for development purposes: engineering hours, R&D, materials, logistics, prototyping, etc…
When the product is ready to be mass produced, Lynkz and the client go over all the legal aspects of the product commercialization such as Intellectual Property, Commitment to Buy and Procurement Clauses. Lynkz not only takes care of supply logistics, but offers to continuously improve the product based on the Client's feedback.
Lynkz makes profit on selling back the product to the Client when the whole development cycle is over (6 to 12 months). Since Lynkz makes no profit over a long period of time, it is in Lynkz's advantage to make the best out of this project to be able to ultimately make profit out of it. Lynkz makes money only if the client is satisfied with the product and wants to buy it.
A high number of applications can be covered by Lynkz's technology. Lynkz proposes to run a free of charge proof of concept on your site to validate a solution to a monitoring problem before undertaking a collaborative product development towards a industrial mass produced custom solution.
If you are thinking about upgrading your technology towards simple, efficient and competitive solutions, contact Lynkz right away to discuss ways of overcoming your monitoring challenges.